User traces and additional simulated results from Ask'n'Seek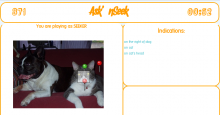 | Resource Type | Date |
| --- | --- |
| Results | 2013-07-24 |
Description
This ZIP file contains the necessary data to replicate the experiments presented in the paper "Crowdsourced Object Segmentation with a Game" (CrowdMM 2013).
It contains thre sections:
1. EXTERNAL DATA SOURCES
Text document with references and links to the external dataset and segmentation software to generate the object candidates.
2. REAL TRACES
5classes.txt: List of the 19 images from the Pascal dataset used to collect real traces.
real_data.mat: Real clicks obtained from the games on these 19 images.
10objects.txt: List of 8 images that contain 10 objects with more than 15 clicks. These are the objects that were used to assess the click simulator.
3. ADDITIONAL GRAPHICAL RESULTS
Additional graphs, including the ones published in the original paper.
People involved