Click'n'Cut: Online interactive segmentation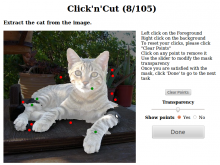 | Resource Type | Date |
| --- | --- |
| Demo | 2014-10-23 |
Description
Click'n'Cut is an interactive segmentation tool developed jointly with INP-ENSEEIHT from the Université de Toulouse (France). Click'n'Cut combines clicks generated by users to obtain accurate object segmentations. These segmentations are created by combining precomputed object candidates in a light computational fashion that allows an immediate response from the interface.
I can be accessed online from the following URL:
http://ubee.enseeiht.fr:8080/Annotation/InteractiveSegmentation.html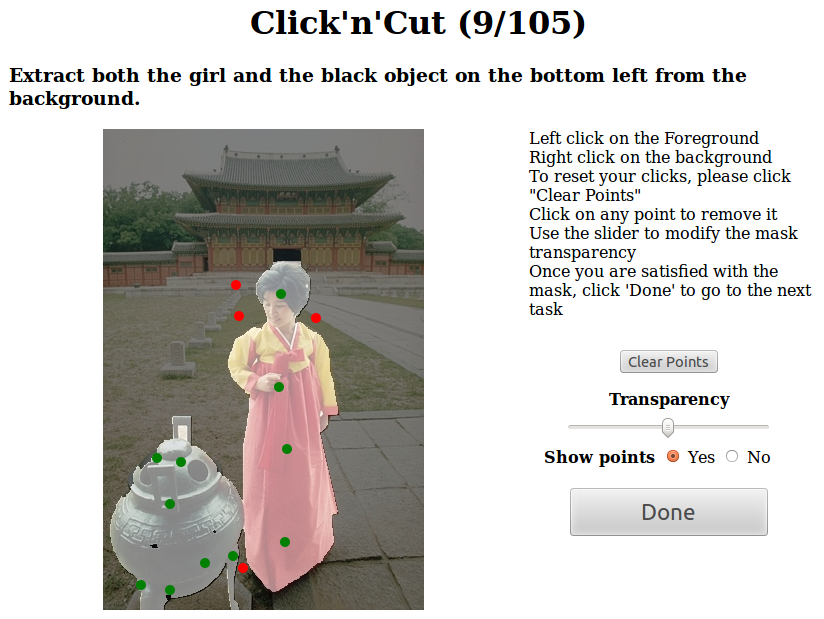 People involved
Related Projects
Related Publications
"

Assessment of Crowdsourcing and Gamification Loss in User-Assisted Object Segmentation

",

Multimedia Tools and Applications

, vol. 23, no. 75, 2016.
(5.05 MB)
,
"

Click'n'Cut: Crowdsourced Interactive Segmentation with Object Candidates

", in

3rd International ACM Workshop on Crowdsourcing for Multimedia (CrowdMM)

, Orlando, Florida (USA), 2014.
(1017.73 KB)
,
"

Exploiting User Interaction and Object Candidates for Instance Retrieval and Object Segmentation

". 2014.
(8.97 MB)
,