LIvRE, a Content-Based Video Retrieval search engine based on LIRE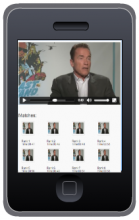 | Resource Type | Date |
| --- | --- |
| Software | 2016-02-13 |
Description
Authors: Gabriel deOliveira-Barra (University of Klagenfurt), Mathias Lux (University of Klagenfurt) and Xavier Giro-i-Nieto (Universitat Politecnica de Catalunya).
LIvRE is a free, open-source, multi-platform Content-Based Video Retrieval (CBVR) search engine based on the LIRE project . In other words, LIvRE makes it possible to efficiently parse, index and search through small and huge video collections using images as input queries.
Features Overview
Open source, state-of-the-art features based on the LIRE CBIR library, powerful performance, covers the 3 main blocks of a full CBVR system: Extraction, Indexing and Retrieval, uses Apache Solr as search server, scalable, Multi-platform and OS independent.
Demo, latest source code and set up instructions are available at http://nospotfer.github.io/livre/.
People involved