VR4Fire: Virtual Reality tool for population and emergency services training in case of fire, from real 3D Volumes and CFD simulations
| Type | Start | End |
| --- | --- | --- |
| National | Dec 2022 | Nov 2024 |
Reference
Pla Estatal de Investigación Cientítica y Técnica y de Innovación 2021-2023. Agencia Estatal de Investigacion
Description
Fires, in all their forms (wildland, urban and industrial), are unwanted events that have a great impact on our society, both in terms of the loss of property and the loss of human lives.
Likewise, fires also have adverse consequences for the natural environment, with the destruction of many ecosystem services due to the devastation of natural spaces of high ecological value, the impact on the global carbon cycle and the atmospheric pollution related to the smoke plumes. Populations located in the wildland-urban interface are increasingly threatened. Buildings, facilities and infrastructures that are very close to vegetation, in the event of a fire, suffer the direct consequences of contact with the flames, radiation, smoke and ashes. This effect is also significant and very dangerous at the industrial-wildland interface, where the presence of hazardous substances can lead to new accidents. In addition to fires, other natural phenomena increased by climate change (such as floods, episodes of extreme temperatures, very strong winds, etc.) are increasing the risk associated to the industries that handle dangerous substances, a fact that can have devastating consequences for the population.
Faced with these emergencies, the emergency services experience a limitation in their intervention capacity. The available evidence shows that citizens have a generally low knowledge and perception of what it means to live with this risk, something that affects the preparation and level of self-protection, which is increasingly necessary both in the preventive phase and in the phase of emergency and post-emergency recovery. In this sense, the development of risk awareness tools that include immersive experiences (with the use of virtual reality tools - VR) for the understanding of protection strategies can represent a very important advance in the management of this type of risk and in the adaptation of society to these effects derived from climate change. A fire can have serious economic and human consequences. However, in many cases, prompt intervention and appropriate behaviour can significantly reduce this threat. It is therefore important that people be properly trained.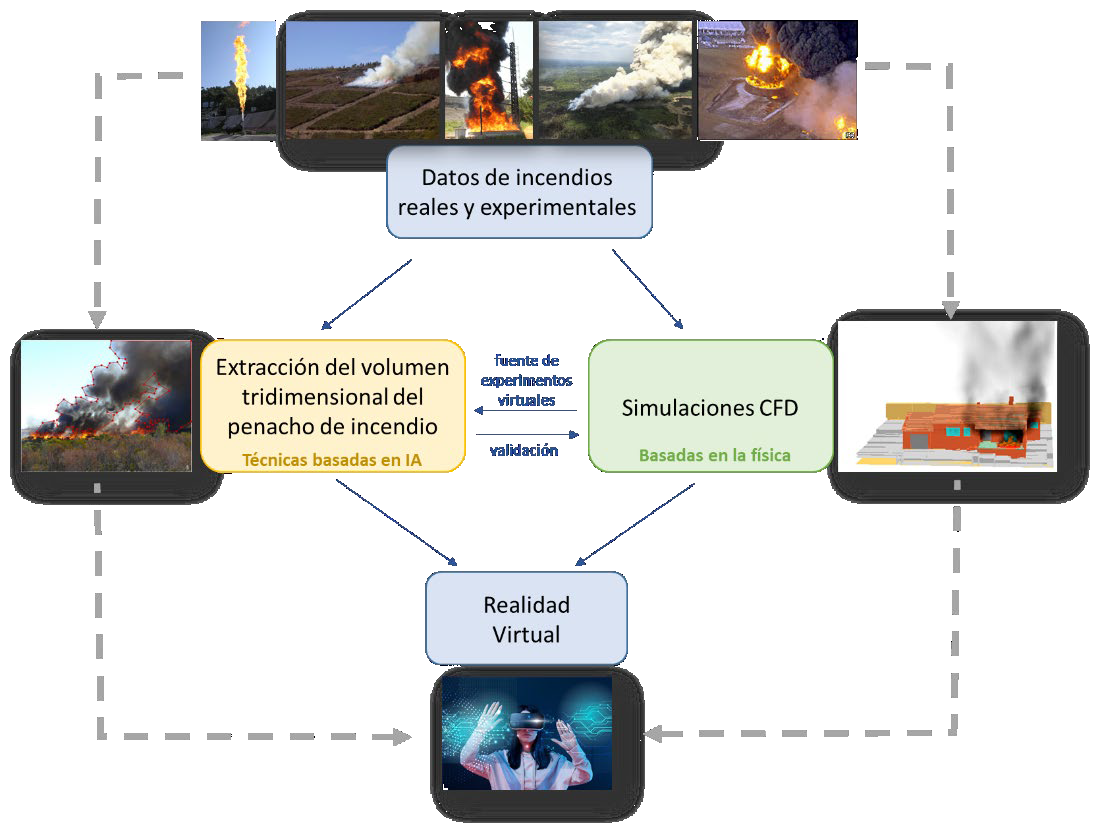 Given the economic, ecological and organizational demands and limitations linked to fire safety training, virtual training environments seem to be a suitable alternative to traditional training. Although virtual reality technologies have advanced significantly in recent years, the representation of fire and smoke is very limited and lacks a sufficient physical basis for a realistic visualization that allows the training of intervention teams and the population. The purpose of this project is to generate the necessary scientific knowledge to obtain the three-dimensional representation of fire plumes from real images and computational fluid dynamics simulations by means of artificial intelligence techniques. This will allow the development of an application of Virtual Reality focused on education and awareness of people in the field of risk associated with fires, which can help them having a better understanding of protection strategies.