Josep Ramon Morros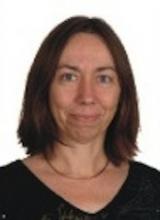 Biography
Josep Ramon Morros Rubió received a degree in Physics from the Universitat de Barcelona (UB), Barcelona, Spain, in 1989. He received the Ph.D. from the Universitat Politècnica de Catalunya (UPC)in 2004.
In 1989 he made a short stay at the Research Institute for Technical Physics of the Hungarian Academy of Sciences, in the Division of Semiconductor Microwave Devices, in Budapest, Hungary.
From 1989 to 1990 he worked at Mediterrània d'Enginyeria as a programmer and computer network administrator. From 1991 to 1993 he worked at Instrumentación Electrónica PROMAX, as responsable of the technical documentation department.
From October 1994 to February 1997 he was teaching telecommunications at the UPC. In February 1997, he joined the Escola Universitària Politècnica de Mataró EUPMT, Mataró, Spain, where he teached electronics and computer science until June 2001. He also gave courses on PC Hardware at SC2 Formació during several years.
In 2003 he joined the Universitat Politècnica de Catalunya where he is currently Associate Professor. He is lecturing in the areas of communications, signal processing, digital image processing and computer vision. His current research interests include image and sequence coding, segmentation problems and video sequence analysiss, with application in fields like urban mobility or agriculture.
Since 1994 he has been involved in various European Projects (MAVT, MoMuSys, SIMILAR, CHIL, FascinatE ...) as a researcher from the Image and Video Processing Group at the UPC.
Identifiers:
orcid.org/0000-0002-1395-487X, Researcher ID: F-8227-2013, Scopus Author ID: 35587745500
Social media:
Book Chapters and Bookstop
Conference Papers top
2019
"

Uso de redes neuronales convolucionales para la detección remota de frutos con cámaras RGB-D

", in

Congreso Ibérico de Agroingeniería

, Huesca, 2019.
(1.21 MB)
,
"

Audience measurement using a top-view camera and oriented trajectories

", in

IEEE IECON 2019

, Lisbon, Portugal, 2019.
(523.13 KB)
,
"

Picking groups instead of samples: A close look at Static Pool-based Meta-Active Learning

", in

ICCV Workshop - MDALC 2019

, Seoul, South Korea, 2019.
(911.15 KB)
,